Digital Video Production Services by
Dynamic Digital Advertising
For most people, the most effective learning, memorization, and recall occur through visual and audial channels. Video can help your company make a bigger impact on potential customers/clients, business partners, investors, employees, and others. However, unless you have a polished and professional video presentation, you and your business will be remembered but not necessarily in the manner you desire.
Are you looking for a better way of communicating with potential customers and investors, business partners and employees, and others? Dynamic Digital Advertising (DDA) provides your company with the state-of-the-art digital video production services that help you command the attention of your target audience. Call us today to learn more.
Dynamic Digital Advertising opened Pennsylvania's first digital advertising agency in 1994. DDA videographers have used state-of-the-art equipment to shoot, edit, and produce exceptional videos for clients. DDA offers the following types of digital video production services to help you successfully market your company's products and services:
Digital Video Editing & Production
Don't waste your time and money on poor quality videos that have blurry images and indistinct sounds. With an all-digital video recording studio and video editing facility, Dynamic Digital Advertising provides videos that feature remarkable quality in color, resolution, and sound. Additionally, the digital nature of the DDA editing process is extremely cost-effective, allowing companies of all sizes and with all budgets to have broadcast quality videos complete with special effects.
Video Duplication Services
Dynamic Digital Advertising offers first generation video duplication services. The result is a video that retains a high quality sound and picture for a polished, professional presentation.
Corporate Video Production
Looking for a more entertaining way to tell an audience about your company? Highlight your company's products and services or inform an audience about your company with digital video production by DDA. Dynamic Digital Advertising offers corporate video production services for companies who want to educate as well as entertain clients, customers, partners, investors, or employees.
Instructional Video Production
Do you need a digital video that can orient new workers or students? Or a how-to video that shows a customer how to operate a piece of equipment? Dynamic Digital Advertising has on-staff script writers and professional videographers that can create the videos that will educate and impress your audience.
Streaming Video Production
Your website must be more than online; it must be top-of-the-line. Upload streaming videos onto your website and allow visitors to take virtual tours of your facilities or meet your CEOs, sales representatives, etc. face-to-face from the comfort of their homes or offices. Streaming video by Dynamic Digital Advertising engages and impresses website visitors and results in higher visitor-to-customer conversion rates.
Trade Show Video Production
Sometimes trade shows are so crowded that attendees simply don't have time to talk to more than a few potential suppliers. Trade show videos present an excellent opportunity for you to showcase your company through executive presentations, video tours, music, animations, and more. Dynamic Digital Advertising is also a pioneer in radical trade show design and is the perfect agent for creating the compelling trade show exhibit and trade show video you need.
Digital Audio Production
If your speakers, narrators, or actors cannot be heard, your efforts in producing the digital video have been wasted. Fortunately, Dynamic Digital Advertising offers the highest quality of recording, manipulating, and editing digital audio. DDA can also compress digital audio into streaming media and make it available for inclusion with your custom multimedia website design.
Interactive CD-ROM and DVD Video Services
CD-ROMs and DVDs are quickly becoming the number one method for transferring and experiencing multimedia. With the skills of DDA's graphic designers, any number of multimedia elements can be incorporated, from digital photography to 3D animation. Dynamic Digital Advertising creates videos that engage users with high production quality interactive CD-ROMs or DVDs.
Script Writing for Digital Videos
Well-written scripts that educate and market to an audience are essential to the success of any video. Dynamic Digital Advertising maintains a staff of full-time writers who are experienced in working with clients for the purpose of explaining and marketing their business professionally and enthusiastically. DDA writers than craft the creative scripts that capture an audience's attention.
Call Dynamic Digital Advertising today. Not only is DDA an expert custom website design company but a leader in digital video production services for Internet, Corporate Presentations, Training Videos, Product Demonstrations, and more.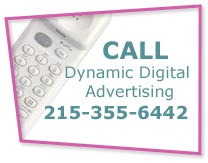 Call DDA today and start increasing your profit potential tomorrow.