Pre-Launch Website Optimization Services by DDA
Organic search engine optimization is the single most important step to successful Marketing in the 21st Century™. You may not understand how it works but you probably understand that websites with the right levels of optimization built in pre-launch are ranking number one on the major search engines. With nearly 85% of the millions of searchers each month finding products and services exclusively through search engines, having a website that places above those of your competitors gives you a distinct edge in the online marketplace.
So how do you get this edge?
Call Dynamic Digital Advertising today. DDA offers your company a solution with a proprietary custom website design and development process integrated with optimized content based on keyword research and pre-launch optimization services. The result is a website that has powerful levels of ethical search engine optimization ready to go at launch.
Dynamic Digital Advertising provides natural search engine optimization within a complete custom website design and development process. Be ready to earn high search engine rankings as soon as your website launches: call DDA now.
The goal of a search engine is to return listings of websites that have the most helpful information and most useful tools. Powerhouse search engines such as Google, Yahoo, and MSN have earned their reputations by consistently returning the most relevant and useful websites. The key to earning high search engine rankings is building the type of website that search engines believe will most benefit a searcher.
Dynamic Digital Advertising has the tools and the on-the-job experience necessary for building this website. Here are a few of the proven techniques used for every new website:
Website Menu Development must be supported through extensive keyword research. DDA finds highly-searched keywords relevant to your business and accordingly scores each page of the website.
Website Architecture is designed for maximum levels of optimization. As we plan the website layout and begin construction, we make sure that the website architecture helps the search engine spider to recognize the inherent strength of the website.
Search Engine Content Development relies on keyword research to generate pages of information that are valuable and relevant to targeted searches and are therefore returned by search engines for the correct queries.
Strategic Linking creates internal links as well as reciprocal links with other websites. Internal linking helps visitors find what they want while reciprocal links create additional points of entry; both types signal to search engines that your website will benefit a searcher.
No space is wasted. Every word, link, graphic, code, and tool put into a DDA-designed website is working to increase search engine rankings or to convert visitors into customers, partners, or investors.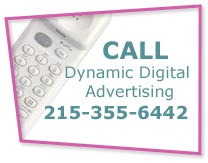 Call Dynamic Digital Advertising, a major custom website design company, to learn more about the pre-launch methodologies that complete our website design and development process.