Avakid Mobile Application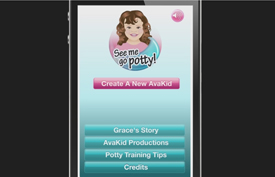 AvaKid Productions develops personalized Smartphone apps for children, and they worked with DDA Medical for their first application project. The AvaKid custom mobile application was created by DDA Medical to help parents potty train children with learning disabilities. This custom-designed mobile app demonstrates how eye-catching design and intuitive functionality can provide practical benefits through interactive online experiences.
DDA Medical's professional illustrators branded the app with Grace, an illustration of one of AvaKid Productions'founders. Parents can create an avatar of their own child to better connect their child to the demonstration animations. The apps allows parents to customize gender, hair color and style, eye color, skin tone, shirt color, mouth size, and face shape.
Children can watch scenes of their avatar having an accident, or successfully going to the toilet and washing their hands. Each brightly colored scene is illustrated simply to connect the lesson to the child clearly and memorably. Voice-over narration of the child speaking through their experience reinforces the message.
Topics can be selected through an intuitive graphical user interface that allows for easy navigation, and include additional textual reference material, background on AvaKid Productions, potty training tips, as well as background information on Grace and the founders' experiences of raising an autistic child. DDA Medical team of software programmers ensured that the final app was made available on Google Play and the iTunes Store across both Android and Apple platforms to achieve maximum public access and market impact.
One Kentucky teacher offered her praise for the application in 2018. "I'm a teacher in KY and have TREMENDOUS success with potty training, but I credit 75% to your see me potty app.... I have one iPad that I REFUSE to update because I know I will loose access to this AMAZING tool.... so do you plan to update? I have lots of amazing data to share that supports your app for training students with autism.... I have a "avakid" school/home protocol.... We recently started back to school, and this was our first full week in session. Already, I have three students with autism "not potty trained" but have successfully used the bathroom this week! Please keep me updated and let me know how we can keep this awesome app going!!!!! Thank you so much for assisting in changing lives... this app is THE BEST!!!!! Hands down- the very best!"