DDA Medical Device Manufacturer CRM Application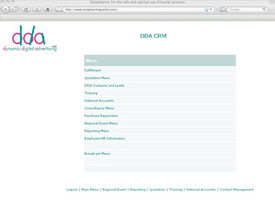 The experienced programmers at DDA Medical developed this application to help healthcare providers, pharmaceutical companies, and medical device manufacturers gain a competitive advantage by monitoring and cultivating customer relationships and better managing the sales cycle process. DDA Medical's customer relationship management (CRM) tool allows these companies to measure their return on investment using a streamlined, integrated, online portal to maximize each encounter with a customer, increase customer satisfaction, reduce costs, and monitor product performance. It also aids in consistency and compliance by providing traceability at every stage of the customer and product cycle.
DDA Medical's CRM application is modular and customizable, allowing DDA programmers to add or remove elements to fit the needs of any medical device manufacturer, pharmaceutical company, or healthcare provider. With DDA Medical's web-based CRM software, companies can easily identify up-sell and cross-sell opportunities, identify profits generated by interaction with key clients, build and motivate sales forces, and receive standardized reports to properly gauge ROI. In the medical industry, creating and maintaining relationships is of the utmost importance. With DDA Medical's customized CRM software, those relationships can be monitored and cared for.