Healthcare Administrative Partners' Medical Practice Direct Mail Campaign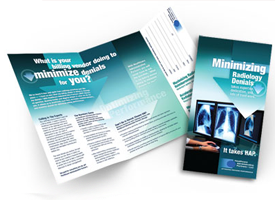 DDA Medical designed, developed, and implemented this direct mail campaign for Healthcare Administrative Partners (HAP). The company – which provides medical practices with billing, consulting, and management solutions – was targeting the radiology market and looking to generate new leads. After detailed discussions with the client, DDA Medical developed a strategic marketing concept, which included a four-part direct mail campaign. DDA Medical's graphic designers and copywriters developed each piece, creating a cohesive look throughout the campaign, while focusing on the different areas of HAP's radiology services: "Accelerating Radiology Cash Flow," "Minimizing Radiology Denials", and "Maximizing Radiology Reimbursement."
Once the designs and content were approved by the client, DDA Medical worked with HAP to carefully plan and schedule the production and mail fulfillment of each individual piece. The final tri-fold brochures were printed with business reply cards and distributed by DDA Medical to a mailing list provided by HAP. DDA Medical understands that despite the prevalence of the Internet, email, and other interactive marketing techniques, there is still a place for effective direct mail campaigns. And with years of experience and an overall expertise in graphic design, copywriting, and direct mail marketing, DDA Medical is the perfect source for direct mail campaigns of all shapes and sizes.