Kidney Cancer Institute Patient Brochure, Mailer and Website Design
Patient Brochure
Patient Mailer
For this direct mail piece to physicians, DDA Medical created two different styles of the same design – a 10X17 piece, folded to 5X7, so it resembled a small brochure and a 5X7 postcard. Both were mailed directly to physicians and were used to introduce Dr. Jaime Landman, the Director of Minimally Invasive Urology at Columbia Presbyterian Hospital and the treatments he provides.
This piece helps to familiarize physicians with the advances in the diagnosis and treatment of renal tumors and provides information on Dr. Landman's renal tumor surgical techniques, so they can make an informed and intelligent decision about patient referral. DDA Medical integrated appropriate imagery, including a picture of Dr. Landman himself, and organized the facts, information, and bio on Dr. Landman in a way easily absorbed by physicians.
We understand that when it comes to direct mail, you need to create a piece that will be visually appealing, resonate with the recipient, and present pertinent details in a way that they are easily absorbed, retained, and remembered.
Website Design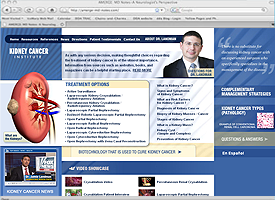 Dr. Jaime Landman, a Columbia Presbyterian Medical Center minimally invasive kidney cancer surgeon, needed an effective website to not only promote his practice, but also provide information and reference material in order to be a complete educational resource for people with kidney cancer. DDA Medical, an award-winning industry leader in medical website development and medical marketing, was contracted to develop a website that addressed Dr. Landman's needs. The Kidney Cancer Institute includes custom designed graphics, user-friendly navigation, and easy-to-use resources regarding the treatment of cryoablation for kidney cancer.
The website is search engine optimized and search engine marketed by DDA Medical and has earned hundreds of search term keyword results in the top pages of the major search engines. Additionally, the medical website is routinely updated with additional information. In fact, DDA Medical provided their complete video production services to film and edit a patient testimonial and patient interview video for the website. Our video production team took the state-of-the-art studio equipment on-location to Maine for these videos. DDA Medical also provided editing services to post multiple surgical videos to the Kidney Cancer Institute website. The combination of informational resources, engaging videos, and growing search engine marketing has helped to create an extremely successful website that educates viewers and promotes Dr. Landman's practice.
Services Used:
Search Engine Marketing
Website Design, Web Graphics
Optimized Website Design and Development
Search Engine Optimization
Integrated Video
Direct Mail
Post Cards
Brochure Design