Oncura Clinician Promotional Trade Ad, Logo and Sell Sheet Design
Trade Ad Design
This advertisement for Oncura, a cryotherapy medical device manufacturer, encourages people to visit their tradeshow booth for a free gift. DDA Medical, an industry leading medical marketing agency, had already developed multiple trade show graphics and booths for Oncura. This promotional ad combined the Oncura branding cues with a focus on receiving a free gift and free admission to an online continuing medical education (CME) course – also developed by the CME design and programming team at DDA Medical. The goal of this ad was to persuade physicians to visit the Oncura trade show booth and fill out a survey regarding treatment options for prostate and kidney cancer treatment. The effectiveness of the ad was evidenced by Oncura successfully obtaining hundreds of surveys during the trade show event.
Logo Design
Presice™, a next-generation cryotherapy system featuring 17-gauge cryoablation needle technology, advanced simulation software and multi-point thermal sensors (MTS), is central to the treatment Oncura provides. When designing the logo for Presice™, DDA Medical needed to complement and give credence to the cutting-edge technology. Our graphic designers created a bold and clean-looking logo that emphasized the play on words, and one which could be easily integrated into any marketing endeavor.
The logo development process was just the first step in a full marketing and branding effort that utilized many of the services offered by DDA Medical to Oncura, from sell sheets and brochures to animation, video production and website development.
Sell Sheet Design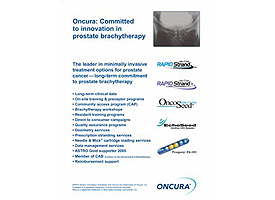 Proper branding is important to any marketing campaign. For this sell sheet, DDA Medical had to create a design that would give all of Oncura's technologies and treatments proper importance while still making it appear clean and pleasing to the eye.
Sell Sheet Design
Outlining all of the benefits of a cutting-edge cancer treatment, while properly positioning all of the individual technologies and therapies involved, is not always done in a clear and concise way.
Through DDA Medical's graphic design services, this patient information sell sheet for Oncura that effectively communicates the science and advantages of cryotherapy was created. Branding for all of Oncura's technologies and therapies was achieved while keeping the core message of the benefits of the minimally invasive treatment intact. The patient can easily comprehend everything that this therapy has to offer.
It is again part of a strategic marketing plan developed by DDA Medical that involves conceptualization, marketing and branding, combined with information and compelling layouts, to help create one unified and cohesive marketing effort.