Galil Medical's Logo Design, Brochure Design and Medical Illustration
Potent-C Logo Design
Once Galil Medical decided on one of the names suggested by DDA Medical for the targeted cryoablation clinical trial, the company turned to DDA Medical to begin the initial stages of the clinical trial marketing with professional logo design. After developing a variety of concepts in different fonts, colors, and supporting graphics, Galil Medical decided on this logo for the promotional and educational marketing materials of the clinical trial. The image is bold and representational of the topic at hand: preserving potency and continence in men after prostate cancer cryoablation treatment.
Potent-C Patient Brochure
As part of the Potent-C clinical trial strategic marketing effort, Galil Medical requested that DDA Medical create a tri-fold patient brochure to promote full enrollment. Provided with the registry protocol as a resource of information, DDA Medical's writers developed cogent medical content that presented technical information on targeted cryoablation in a way that is easily comprehensible. Common patient questions asked in the headers are answered in the clear and concise content that follows. DDA Medical's graphic designers created the patient brochure to complement and expand upon the aesthetic developed for the logo they had designed previously.
Image Guided Percutaneous Cryoablation Physician Brochure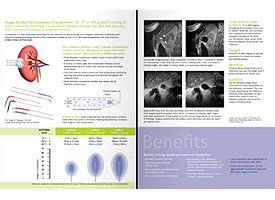 Using illustrations, images, and an attractive custom design, DDA Medical created an informative and comprehensive brochure on Percutaneous Cryoablation. This well-marketed brochure addresses members of the medical community and promotes Galil Medical's image-guided cryoablation system with device photography and DDA designed illustrations depicting the technology in action. The layout is clean and well-organized for the effective presentation of text detailing device use, product specifications, and benefits.
Digital Medical Illustration
Unlike photography that is restricted to where the lens can go, professional illustrations have no boundaries. Whether you are looking to reveal the inner workings of an organ or desire a magnified view-point that can only be achieved via photo realistic medical illustration, DDA Medical's talented team of experienced illustrators can deliver the desired end result. Galil Medical, innovator in the field of cryotherapy, had DDA design this custom illustration of a liver inserted with three cryo-needles. To achieve a realistic affect, DDA designers modeled the illustration with life-like shading and coloration. Also, to demonstrate the formation of ice balls, the liver is semi-transparent to show Galil Medical's device at work.
Services Used:
Logo Design
Brochure Design
Marketing Copywriting
Medical Illustration