Improve Your Website's Performance with Dynamic Digital Advertising
You've taken the first step towards better Marketing in the 21st Century™ and launched a corporate website. Now what? Companies who fail to evolve their websites after launch are vulnerable to outdated graphic design and content which can seriously damage a company's corporate identity. On the other hand, managing content, renewing the design, and adding state-of-the-art tools dramatically enhance visitors' perceptions of your company which boosts sales and increases ROI. A professional web site development company, Dynamic Digital Advertising (DDA) offers an array of website management options for maintaining your site both today and tomorrow.
Call Dynamic Digital Advertising, a leading custom website design company, to experience the many benefits of measuring, managing, and improving your website with regular updates and maintenance
Read on to learn more about how DDA manages your website for maximum search engine rankings, website visitor conversion, and website visitor usability:
Ongoing Keyword Research Services
If your website was originally bringing in a fairly high number of visitors but recently seems to have dropped off, or you know that website has declined in search engine rankings, you need to know why. Perhaps the level of competition for your major keywords has increased or the number of people searching those keywords has decreased. Dynamic Digital Advertising performs the in-depth keyword research that finds the keywords that will boost your rankings. Additionally, DDA may find new keywords that pertain directly to your business but you haven't yet thought to target.
Search Engine-Friendly Content Management
When keywords change, old content must be updated or new content modules must be constructed. Dynamic Digital Advertising maintains a staff of experienced search engine optimization copywriters who craft cogent pages of keyword-rich text that grab search engine attention and engage website visitors. Managing website content on a regular basis encourages search engines to regularly index your website and also assures search engines that content is up-to-date and therefore valuable to searchers.
Organic Search Engine Optimization
Natural search engine optimization is an effective marketing technique which has been refined into a science by DDA and is called the SureThing™ search engine marketing program. The SureThing™ is a twelve-month-long process that comprises eighteen individual steps. Each step is designed to retrofit the existing structure and underlying code of a website while providing regular reports about the progress of search engine rankings and website traffic. Some of the techniques DDA uses for natural search engine optimization includes developing search engine-friendly tags, alt text, strategic linking and back linking, and much more.
Call Dynamic Digital Advertising today. As a custom website design company, we help you to discover the many ways your website can be managed and improved after launch for maximum search engine rankings and higher visitor conversion rates.
Since 1994, Dynamic Digital Advertising has been a leader in custom website design and professional website development as well as natural search engine optimization. With extensive experience in leveraging digital technology to benefit clients from a limitless number of industries, DDA provides solutions for websites competing for first-page spots on Google, Yahoo, and MSN who provide the vast majority of online searches and form today's competitive marketplace. Based in the greater Philadelphia area of Pennsylvania, Dynamic Digital Advertising serves clients not just in its home state, but also in New York, New Jersey, Delaware, Maryland, Washington D.C., and the rest of the United States.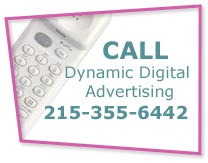 Call DDA today and start increasing your profit potential tomorrow.